Ho Chi Minh City Workshop 2016
August 29-September 1, 2016
The workshop in Ho Chi Minh City, Vietnam was our eighth meeting of the Consensus Building in Asia. This workshop was also the fourth, and the last, meeting of the workshop series funded by the Toyota Foundation.
Experts from Asia and the rest of the world has spent three days together to present and discuss their knowledge and experience with consensus building processes.
Several topics were presented in the Vietnam workshop, including consensus building for peri-urbanisation and conflict resolution for renewable energy projects. During the workshop, a field trip to Tri An Lake was organized to learn about the unique settings for consensus building in Vietnam.
A half-day training workshop was also convened for promoting the use of consensual approaches to urban planning, environmental protection, and energy developments. Trainees were invited from land development organisations, NGOs with focus on renewable energy, land and urban development.
Organized by: CBAsia Working Group
Hosted by: Vietnamese-German University
Supported by: The Toyota Foundation
CBAsia members can download presentation slides from the private sessions here.
---
Program
August 29, 2016 (Mon.)
1800- Welcome Gathering
August 30, 2016 (Tue.) <Saigon Prince Hotel>
9.00-12.00 CBAsia In-group Session
Learning about the Vietnamese renewable energy situation
A special lecture by Energy Conservation Center Ho Chi Minh City
Sharing stories of our recent practice
13.00-16.00 Special Training Session (see below)
18.00- Evening gathering
August 31, 2016 (Wed.) <Tri An Lake and VGU >
8.00-15.00 Site visit: Trip to the Trị An Lake and Learn about the controversy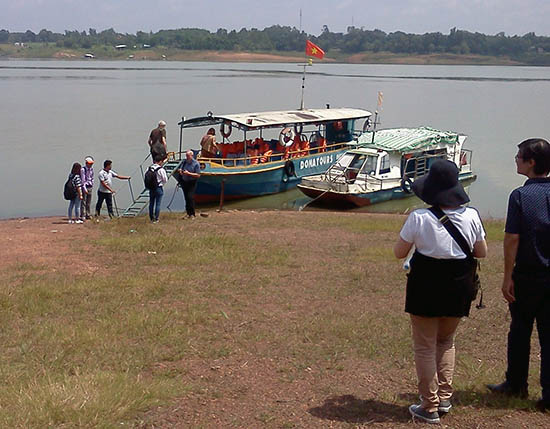 15.00-17.30 CBAsia In-group Session at VGU Binh Duong Campus
Discussion with VGU President Prof. Dr. Jürgen Mallon
Sharing stories of our recent practice (continued)
1900- Evening gathering
September 1, 2016 (Thu.) <Saigon Prince Hotel>
9.00-12.00 CBAsia In-group Session
1) Finalizing convenor's guide
2) Brainstorming future agenda
---
Special Training Session
A special training session was organized with generous support by the Vietnamese-Geman University's Sustainable Urban Development program.
13.00-13.05: Opening speech
VGU President Prof. Dr. Jürgen Mallon
13.05-13.15: Introduction to the training session
Dr. Nguyen Ngoc Hieu, Vietnamese German University (Binh Duong, Vietmam)

13.15-13.45: Introduction to the field of planning controversies in Asia
Prof. Dr. Masahiro Matsuura, Meiji University (Tokyo, Japan) [English original]

[Vietnamese]

13.45-14.15: Overview of the practice in the United States
Dr. Peter Adler, Accord 3.0 (Hawaii, the U.S.A) [English original]

[Vietnamese]

14.35-15.20: How you can adopt collaborative dialogue
Dr. Boyd Fuller, Fuller Negotiation (Ottawa, Canada) [English original]

[Vietnamese]

15.20-16.00: Wrap-up

The 2015-2016 workshop series is supported by: